This page describes the developer-support services that are most commonly used during application development:
eBay communications: Keep up with site statuses and news.
eBay developer support: Get formal help and support from eBay.
Developer community support: Get help from the eBay developer community.
eBay feature information: Learn the details of the eBay feature set.
The eBay Community: Join the eBay Community to share information with other eBay users and sellers.
For a complete summary of the eBay developer services, visit the Developer Help Center.
eBay communications
eBay uses several mechanisms to communicate with developers, including:
Site banners
The Site Status page
Product release notes
Developers Program blog
Site banners
Important and/or critical notices are shown in yellow banners at the top of eBay Developers Program pages. For example:


A site banner
The Site Status page
To check on the status of either eBay's production site or the Sandbox test environment, visit the API Site Status page.
Release notes
Release notes for the various eBay APIs are linked off of the Release Notes index page (for non-RESTful APIs) and from the Release Notes pages associated for each individual RESTful API.
Developers program blog
Check the eBay Developers Program blog for the latest news, product updates, critical changes, and articles about eBay development issues and topics.
Developer support
eBay offers several direct and indirect ways that it supports application developers.
The developer knowledge base
Usually your first stop should be at the eBay Developers Program knowledge base, where you can search for issues similar to yours and how they were handled. This is free of charge.
The Developer Technical Support team
Formal eBay support comes from the Developer Technical Support team (DTS). You must be a registered eBay developer to interact with DTS (for details, see Creating an eBay Developers Program account).
DTS offers Premium Support, a paid-for service. To get Premium Support, navigate to the Premium Support page (which you can also view by clicking Support > Support Ticket on the drop-down menu at the top of the Developers Program home page page).
Before you can request Premium Support, you must have either already purchased DTS support hours, or you need to purchase them via the Purchase Hours link. Specify the number of hours you want (either a 4-hour package for $250 or individual hours at $75 each), and pay using PayPal. PayPal is the only supported payment method; if you don't have a PayPal account, you will need to create one.
Once you have purchased support hours, go to either the Request Support link to file a ticket or to the Live Help link to interact with directly with the support team.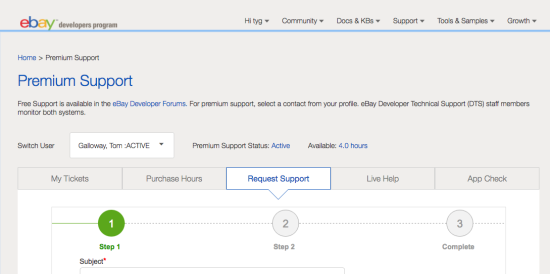 Requesting Premium Support
When filing a ticket (or live chatting), you should have the details of the operation that is giving you trouble. This includes the HTTP headers and payload for the request, as well as the HTTP response headers and response body. In addition to these details, you should also have on hand your Dev ID and App ID values.
Tip: When you encounter problems with a request, it's important that you save the HTTP response header values to help the support team find the details of the specific call with which you are having trouble.
Increasing your call limits
Each eBay API has default call limits. See the call limits page for how many calls to an interface you can make within a specified time period. If you need to increase your call limits, please see the Compatible Application Check page for how to do so.
Developer community forums
You can interact with and ask questions of the eBay developer community using the eBay Developer Forums. Participating on the eBay developer forums is free of charge.
eBay feature information
In addition to the resources that directly support your eBay application development, the following resources provide details on the rich eBay feature set:
eBay also offers the following general help pages:
The eBay Community
Lastly, the eBay Community is an eBay-hosted location that allows users to meet and share information. Plug in to the eBay Community to stay on top of the latest eBay news, supplied for and by eBay users: